Applying motorcycle insurance in UAE is easy now
Process of getting a quote for your motorcycle insurance is simple .

Submit The Form
Complete the form by providing the details in the form.

Get A Call Back
Our motor bike insurance consultant contacts you for more details if any is required or update you the status.

Get the quote
You will receive the motor bike insurance quotes in your email.
Now choose the best bike insurance policy with maximum bike insurance coverage at Covermatch! As a prime online bike insurance broker & bike insurance agent in Dubai, we assist you in choosing the best bike insurance in Dubai for your specific needs. You get access to bike insurance online policies from best bike insurance companies in Dubai, along with latest insurance trends and updated coverage options at most competitive bike insurance prices. At Covermatch, you can compare bike insurance plans and also avail best bike insurance in Dubai quotes. Just fill out a form with your details to instantly get premium bike insurance rates & features before you choose to buy a bike insurance online policy that offers the best value for your money. With comprehensive Bike Insurance plans from Covermatch, you get 360-degree bike insurance coverage and these are the top level all-inclusive bike insurance policies available to motorcycle owners in UAE. It covers the insured against injury or damage due to accidental collision, legal third party liability, overturning, fire, external explosion, burglary, flood, terrorism and other malicious acts, unless specifically excluded. These bike insurance plans even pays out in own-fault scenarios. Have questions? Our experts with exceptional knowledge of the 2 wheeler insurance market are here to guide you every step of the way. We help you in your bike insurance calculation for getting international bike insurance. Looking for bike insurance renewal in Dubai? Not to worry! Being an expert online bike insurance agent, our commitment is for total customer satisfaction, you can be assured you're in the right place.
Compare Motorbike insurance
Get the best motor bike insurance quotes in all emirates of UAE. We provide motorbike quotes us irrespective of your location in Dubai, Abu Dhabi, Sharjah, Ajman, Fujairah, Ras Al Khaimah, umm al Quwain and Al Ain.
What are the additional covers that can be added along with motorbike cover?
There are benefits which is coming along with any motorbike insurance policies and additional benefits which can be added with your motorbike insurance policy. Below are a list of the additional benefits which can be opted when you buy a motorbike insurance policy.

Agency Repair Cover
Usually in first two years of registration of the motorbike you can avail agency repair. In this case the insured motorbike can be repaired in the dealer' approved workshop in the case of an accident years from the date of first registration of your motorbike as new.
Fire and Theft Cover
This covers theft and loss or damages to motor cycle due to accidental fires.

Geographical Extension
Through this cover the geographical limit can be extended to any one or multiple GCC countries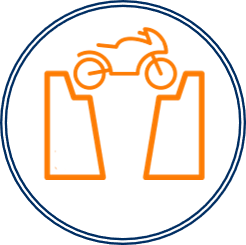 Gap Cover
Your insurance company only pays out the insured value in case of a total loss. This value may sometimes be lower than your outstanding bank loan. This optional extra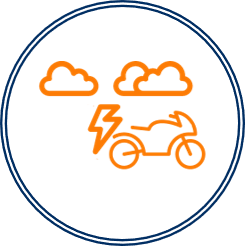 Cover Against Perils of Nature and Civil Disorder
This extension protects your vehicle against loss or damage due to convulsions of nature like earthquakes, volcanic eruptions, storms, floods, hurricanes, sandstorms as well as civil commotions, riots and strikes.

Breakdown Recovery Cover
With this add-on, your policy can be extended to include 24-hour accident recovery, towing services, flat tyre replacement, vehicle jump start assistance in case of a dead battery and emergency fuel delivery.

Helmet & Protective Clothing Cover
Covers damage to approved protective clothing as a result of a motorcycleaccident

Loss of Personal Belongings
This extension compensates for loss or damage of personal property stowed in the insured bike including helmet and protective gear due to an accident, theft or fire. A police report is necessary for such a claim to be entertained.
Address
Covermatch Technologies FZCO,Office 2019, DTEC, Building A5, Dubai Digital Park, Dubai Silicon Oasis, Dubai, UAE.
Working Time
Sat-Thu 8.00AM to 6.00PM.