Applying yacht insurance in UAE is easy now
Best Rates & Services

Submit The Form
Complete the form by providing the details in the form.

Get A Call Back
Our yacht insurance consultant contacts you for more details if any is required or update you the status.

Get the quote
You will receive the motor bike insurance quotes in your email.
Best yacht insurance in UAE would be provided to you irrespective your location in UAE
We help you to compare and buy best yacht insurance policies in UAE irrespective of your location. Even if you are located in Dubai, Abu Dhabi, Sharjah, Ajman, Fujairah, Ras Al Khaimah, umm al Quwain and Al Ainwe provide our service to you .
What is Yacht Insurance?
Yacht insurance or boat insurance covers all types of pleasure crafts,mega yachts and commercial yacht in the event of an accident which causes any loss ,damage or injury. Yacht insurance covers ensures the coverage for your vessel and other vessels as well as passengers and those who are in contact with the vessel.
Why I need a yacht insurance?
As per the Maritime Code of the UAE federal government, all recreational, commercial, sports, tourism and traditional marine crafts need to be insured in the name of the owner, manager or bareboat charterer. This is endorsed to provide highest level maritime safety and secure navigation. Also there could be fines if you don't apply for yacht insurance.
Ensure the best protection with a Yacht Insurance or Boat Insurance
Get the best rates for your yacht insurance .
What causes are covered in Yacht Insurance ?
Perils of the seas, rivers, lakes or other navigable waters. Fire, jettison and piracy.
Contact with dock or harbour, land conveyance.
Explosions.
Malicious acts.
Theft of the entire vessel or her boat(s) or outboard motor(s).
Latent detects in hull or machinery.
Loss or damage to any other vessel or property.
Loss of life, personal injury or illness.
Removal or destruction of wreck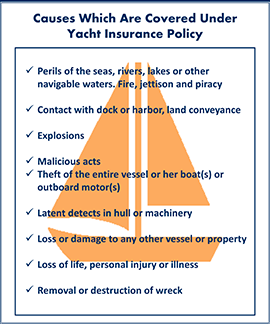 If you are looking to buy a yacht insurance policy for your luxury yacht in UAE, you are at the best place! As a premier yacht insurance broker in UAE, Covermatch, brings you quotes for yacht insurance coverage from multiple insurers and the best rates on Yacht Insurance policies in the UAE. Broad coverage for virtually all types of marine risks is offered & you can be assured of the same high quality coverage for yachts of any size, from small boats to luxury yachts. You can buy yacht insurance online from us and we help you better understand your options and make the best choice. Take advantage of our free online quote comparison widget to compare yacht insurance plans & choose the cover you need, at the most competitive prices. Covermatch brings to you yacht insurance plans from best yacht insurance companies in Dubai. Our team of professionals help you in yacht insurance calculation for international yacht insurance. We also help customize a policy that caters to your specific needs. You get the best yacht insurance in Dubai quote while buying Yacht Insurance with us. We also handle yacht insurance renewal in Dubai in a hassle free way. Buying yacht insurance from us at cheap yacht insurance rates is a great way to make sure you're getting the best deals, discounts and value for your money. Covermatch has a global reach and worldwide network & will ensure that your yacht gets the utmost coverage. Covermatch help our clients to get Yacht insurance from best Yacht insurance company in Dubai. As an online yacht insurance agent well-versed in the intricacies of protecting yachts – regardless of size, we'll manage your risk while you enjoy your pleasure ride.
What are the additional cover possible in Yacht Insurance?
There are additional covers which can be possibly added by paying extra premium . Few of them are
Different Types Of Yacht Insurance Cover
Hull and Machinary Loss or Damage Cover
Loss or physcial damage to the boat due to the perils in the waters and other external factors of human risk related to the vessel is covered in this category.
All Risk Comprehensive Insurance
Loss due to all perils and incidents are covered under Comprehensive Yacht Insurance . Coverage will be excepted for the excluded perils as per the policy.
Market Value Insurance
In this case of yacht insurance policies insurer agree to pay the market value of the yacht in the case of total loss. This value may be different than the policy inception value becuase of the depreciation
Agreed Value Insurance
In this case of yacht insurance insurer agree to pay the full value of the insurance in case of a total loss. This value is agreed by the insurer and the policy owner at the time of inception.
Third Party Insurance
This type of yacht insurance compensate any liability occurs to the third party such as bodily injury,damges,leagallibaility cost etc.
Address
Covermatch Technologies FZCO,Office 2019, DTEC, Building A5, Dubai Digital Park, Dubai Silicon Oasis, Dubai, UAE.
Working Time
Sat-Thu 8.00AM to 6.00PM.